Anyone with a pending court case in Lakewood, New Jersey, can now easily take advantage of pre-settlement funding. Our company is helping plaintiffs all across the United States with low-cost legal funding so that they can appropriately pursue their personal injury case and have enough cash in savings to wait until they receive a fair settlement offer. With financial assistance from us, you can tackle situations like rejecting lowball offers or sustaining the delaying tactics of the offending party. Our team of pre-settlement providers has created tailored financial solutions, using which you can focus on your case and have no worries about the money you need right now.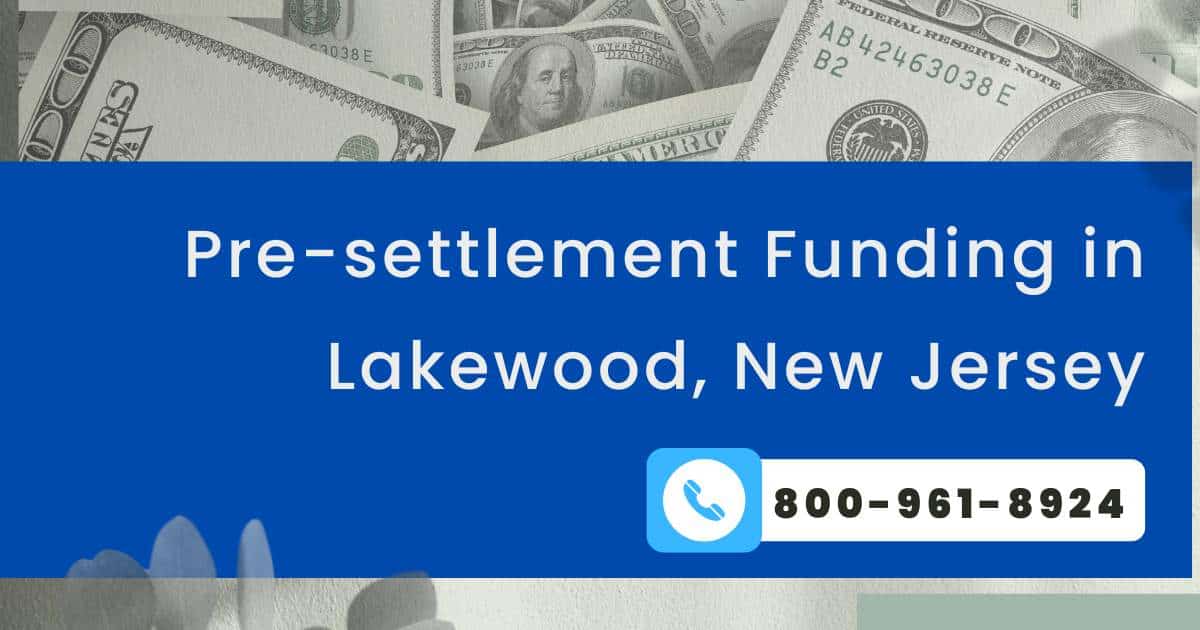 From car accident claims to employment-related lawsuits, we can fund multiple forms of lawsuit in Lakewood. To become eligible for a cash advance in Lakewood, NJ, all you need is a powerful case that has higher chances of getting a fair trial and settlement. Further, you must have an attorney working on your case who agrees to the pre-settlement.
Understand Pre-Settlement Services
Our pre-settlement service in Lakewood is a financial solution through which we provide a non-recourse cash advance to plaintiffs involved in a lawsuit. The money from our cash advance can help you cover your living expenses, medical bills, and other financial obligations while you wait for the settlement of your case. Unlike traditional loans, our pre-settlement funding is risk-free since you don't need to repay the loan if you lose the case; only when you win the settlement do you pay us back a portion of your settlement award, as mentioned in the contract. This will ensure that you don't face any additional financial burden.
Why Choose ECO Pre-Settlement Funding in Lakewood, NJ?
Hassle-Free Application Process
Our company knows that lawsuits are time-consuming and emotionally and financially draining. Therefore, we have designed a very simple and straightforward application process that will make getting a cash advance hassle-free and with no hidden terms. All you need is to fill out an online application with basic case details and your requirements, after which our team will contact your attorney to analyze the case. Based on the insight we gain, we can offer you a lump sum, which you can get after signing a transparent contract with us.
No Credit Checks or Employment Verification
No other financial institution can lend you money if you have a poor credit rating, but now, with a pre-settlement loan in Lakewood, you can get a cash advance against your pending lawsuit. Since we never ask for collateral or credit verification, people get confused about how we are actually giving the funds. In the case of pre-settlement, the pending lawsuit acts as collateral, and we give a cash advance based on the case's strength. If your case is not strong enough and we don't see any potential in it, we will not offer any funds. Therefore, even if you have a poor credit rating, you can still get funds if your case is strong.
Competitive Rates
We are committed to offering you competitive rates, and we try to ensure that our clients receive the best possible financial solution in the industry. Our rates are transparent, with no hidden fees, and we work diligently to ensure that you receive the maximum amount of funding to which you are entitled so that you have enough money in hand to pay for the expenses right now.
Fast Approval
Once your application has been approved, you can expect to receive your funding within a day or two. Since our company understands the urgency of your financial needs and works diligently to ensure that you have access to your funds as quickly as possible,
Client-Centric Approach
At ECO Pre-Settlement Funding, our clients come first. We are dedicated to providing personalized service to each and every one of our clients, ensuring that you receive the attention and support you deserve throughout the entire process.
Types of Cases We Fund in Lakewood
We can offer pre-settlement loans for several case types; some of the cases are listed below but are not limited to:
Personal injury
Medical malpractice
Product liability
Workers' compensation
Wrongful death
Employment discrimination
Civil rights violations
If your case does not fall within these categories, do not hesitate to reach out to our team to discuss your options.
Make ECO Your Partner While You Have Pending Lawsuit & Make The Best Decisions
ECO will be your trusted partner for all your pre-settlement funding needs. With our hassle-free application process, competitive rates, and expert support, you can focus on winning your case while we help you with a cash advance to tackle your financial concerns. Don't let financial stress impact your ability to fight for the justice you deserve.
With our commitment to providing unique, tailored solutions, you can trust that we will work diligently to support you every step of the way. To learn more about our services or to apply for pre-settlement funding in New Jersey, contact ECO today at 800-961-8924. Our team is here to answer your questions and help you find the best possible solution for your unique situation.
Remember, at ECO Pre-Settlement Funding, we are dedicated to making a difference in the lives of our clients by providing compassionate and personalized financial solutions. Don't let financial constraints hold you back from obtaining the justice you rightfully deserve. Choose ECO Pre-Settlement Funding in Lakewood, NJ, and let us help you overcome your financial obstacles today.